Ometron Vibration Measurement Systems
Ometron is a leading worldwide supplier and pioneer of non-contact vibration measurement equipment.

Typical applications of Ometron Laser Doppler vibrometers include structural investigations, test bench or laboratory measurements, condition monitoring, and quality control.
Laser Doppler Vibrometers (LDV) are increasingly used in applications where standard transducers are impractical or even impossible to use. Non-contact measurement has the following major advantages:
Avoids mass loading or stiffness implications
Facilitates remote measurement
Measurement of moving components or structures
Able to measure on high or low temperature surfaces
Ometron equipment uses laser Doppler vibrometry to obtain single-point measurements of surface velocity.
Please Get in Touch with us for sales inquiries.
Optical Measurement Solutions
Laser Doppler Vibrometry is the method of choice for all vibration measurement applications where a non-contact approach is strictly required or offers significant benefits when compared to standard tactile transducers.
Proven solutions exist for many challenging measurement tasks.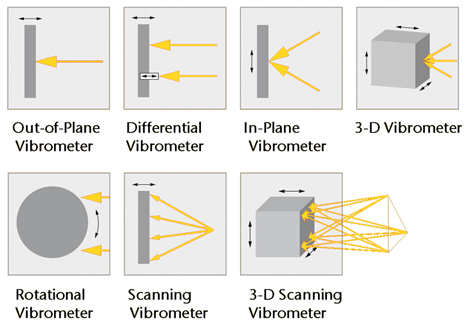 Please Get in Touch with us to find the optimum solution for your application.
Areas of Vibrometer Applications
Vibrating components and structures are a key area of concern in the automotive and aerospace industries and in many other fields of application.
Laser Doppler Vibrometry (LDV) is well established as a fast, efficient and cost-effective means of measuring and analyzing the extent of a structure's vibration. Not only is no contact made with the part under investigation but, due to the high optical sensitivity of the Ometron sensors, the measured surface does not need to be specially modified or prepared in advance. However, it is not just in vibration reduction that Ometron Laser Doppler Vibrometers are being used. Increasingly, the instruments are finding a new role in quality control. Examining the resonance characteristics of a metal casting, for example, can indicate whether the component has been machined correctly.
Laser Doppler Vibrometry sensing is a robust technique for the measurement of mechanical vibration without surface contact. LDV integrated with FFT analysis is a well established technique in the development laboratory of the automotive and aerospace industries, but has also other applications.
Its potential to provide an accurate dynamic picture of the quality of products as diverse as traditional machined parts and electronic components and assemblies is rapidly finding it a place in the quality control armory of many major manufacturing companies.
Quality and Process Control
Quality control of automotive mechanical components, mechanical machinery and consumer products.
Quality and Process Control
Quality control of automotive mechanical components, mechanical machinery and consumer products.
Automotive Industries
Vibration testing on car bodies and panels, automotive components, engines, braking systems and hot exhaust systems. Vibration analysis of models under investigation within a wind tunnel.
Predictive maintenance and condition monitoring on rotating machinery
Research & Development
Transducer design, medical and biological applications, general non-contact vibrometry.
Difficult Environments
Vibration testing on operating machinery in hot or high voltage or contaminated environments measured at long distances.
Civil Engineering
Vibration testing on bridges, buildings, platforms, windmills, electricity pylons.
Consumer Products
Household appliances (washing machines, vacuum cleaners, television tubes and screens), loudspeaker testing, power tools.
Computer Equipment
Hard disk drives and optical drives.
Environmental Applications
Analysis of sound absorption and damping materials.
Ometron Service
In addition to its high performance non contact vibration measurement instruments Ometron offers calibration, maintenance and assistant services.
Please direct your service inquiries for all Ometron Laser Vibrometers including the VPI 4000 Scanning Vibrometer (former B&K Types 8330, 8330A, 8330B, 8330C) to
sales@ometron.com
Legal Notice of Ometron Ltd., Coventry, UK
General obligation to provide information according to § 5 TMG (German Telemedia Act):
The responsible service provider in the sense of § 5 TMG (German Telemedia Act) is
Company:
Ometron Ltd.
Unit 8
The Cobalt Centre
Siskin Parkway East
Middlemarch Business Park
Coventry CV3 4PE
United Kingdom
Board of Management:
Dr. Dietmar Gnass,
Dipl.-Wirt. Ing. (FH) Alfred Link,
Christopher James Howe
Contact:
Telephone: +44 2475 267 020
Email: sales@ometron.com
Commercial Register Information:
Register Court: Companies House
No.: 04937321
Sales tax identification no. according to § 27a UStG:
GB847401821 Mandatory information on alternative dispute resolution according to Art. 13 of Directive 2013/11/EU:
The European Commission provides a platform for online dispute resolution (ODR). You can find this platform at https://webgate.ec.europa.eu/odr/.
You can find our e-mail address under Contact.
Mandatory information according to § 36 German Consumer Dispute Resolution Act (Verbraucherstreitbeilegungsgesetz):
We are neither obliged nor prepared to participate in dispute resolution proceedings before a consumer conciliation body.
Data Protection
Privacy Policy of Ometron Ltd., Coventry, UK
1. Name and contact details of the controller and the company data protection officer
This Privacy Policy applies to data processing carried out by the following controllers:

Ometron Limited
Unit 8
TheCobalt Centre
Siskin Parkway East
Middlemarch Business Park
Coventry CV3 4PE
United Kingdom

Tel. +44 2475 267 020
The company data protection officer can be contacted at the above address, for the attention of Mr. Reinhard Mühlbauer, or at dsb@polytec.de.
2. Collection and Storage of Personal Data as well as the Manner and Purpose of its Use
Visiting the website
When you visit our website www.ometron.com the browser installed on your device automatically sends information to our website's server. This information is temporarily stored in a "log file". The following information is collected without any action on your part and stored until it is automatically deleted:
IP address of the requesting computer
Date and time of access
Name and URL of the requested file
Accessing website (referrer URL)
Browser used and, if applicable, the operating system of your computer as well as the name of your access provider
We process the above mentioned data for the following purposes:
Ensuring a smooth connection to the website
Ensuring convenient use of our website
Evaluation of system security and stability
For further administrative purposes
The legal basis for data processing is Art. 6(1)(1)(f) GDPR. Our legitimate interest follows from the purposes listed above for data collection. Under no circumstances will we use the data collected for the purpose of drawing conclusions about you personally. In addition, we use cookies and analysis services when you visit our website. You will find more detailed explanations under sections 4 and 5 of this Privacy Policy.
3. Disclosure of Data
Your personal data will not be disclosed to third parties for purposes other than those listed below. We will only disclose your personal data to third parties if:
You have given your express consent pursuant to Art. 6(1)(1)(a) GDPR,
Disclosure pursuant to Art. 6(1)(1)(f) GDPR is necessary to establish, exercise or defend legal claims and there is no reason to assume that you have an overriding interest worthy of protection for not disclosing your data,
In the event that there is a legal obligation for disclosure pursuant to Art. 6(1)(1)(c) GDPR,
This is legally permissible and is necessary for the processing of contractual relationships with you pursuant to Art. 6(1)(1)(b) GDPR.
4. Rights of the Data Subject
You have the right:
To request information about your personal data processed by us in accordance with Art. 15 GDRP. In particular, you may obtain information about the purposes of processing, the category of personal data, the categories of recipients to whom your data has been or will be disclosed, the planned duration of storage, the existence of the right to rectification, the right to erasure, the right to restriction of processing, the right to object to processing, and the right to lodge a complaint, the source of your data, if not collected by us, and the existence of automated decision making, including profiling and, where applicable, meaningful information regarding the details thereof;
In accordance with Art. 16 GDRP, to obtain without undue delay the rectification of inaccurate or the completion of incomplete personal data stored by us;
To request the erasure of your personal data stored by us in accordance with Art. 17 GDRP, unless the processing is necessary to exercise the right to freedom of expression and information, to comply with a legal obligation, for reasons of public interest or to establish, exercise or defend legal claims;
In accordance with Art. 18 GDRP, to obtain restriction of processing of your personal data if you contest the accuracy of the data, if the processing is unlawful, but you oppose the erasure of the data, and we no longer need the data, but you need it to establish, exercise or defend legal claims, or if you have objected to processing in accordance with Art. 21 GDRP;
In accordance with Art. 20 GDRP, to receive your personal data that you have provided us with in a structured, commonly used and machine-readable format or to request its transmission to another controller;
In accordance with Art. 7(3) GDRP, to withdraw the consent you have granted at any time. This means that we are no longer allowed to continue processing the data on which this consent is based in the future and
To lodge a complaint with a supervisory authority pursuant to Art. 77 GDRP. You generally contact the supervisory authority responsible for your usual place of residence, workplace or our company headquarters.
5. Right to Object
If your personal data is processed on the basis of legitimate interests pursuant to Art. 6(1)(1)(f) GDRP, you have the right to object to the processing of your personal data pursuant to Art. 21 GDRP, provided there are reasons for that result from your particular situation or you are objecting to direct advertising. In the regard to the latter you have a general right to object, which will be implemented without you providing details about your particular situation. If you would like to exercise your right to withdraw your consent or your right to object simply send an email to dsb@polytec.de.
6. Data Security
We use the most common SSL (Secure Socket Layer) method in connection with the highest level of encryption supported by your browser. Usually this is a 256 bit encryption. If your browser does not support 256 bit encryption, we use 128 bit v3 technology instead. You can recognize whether an individual page of our website is transmitted in encrypted form by the closed padlock symbol in the lower status bar of your browser. We also use appropriate technical and organizational security measures to protect your data against accidental or intentional manipulation, partial or complete loss, destruction or unauthorized access by third parties. Our security measures are continuously improved in line with technological developments.
7. Up-to-dateness and Changes to this Privacy Policy
This Privacy Policy is currently valid as of May 2018. It may be necessary to make changes to this Privacy Policy due to the further development of our website and services offered on our website, or on the basis of changes in legislation or to regulatory requirements. You can access and print out the current Privacy Policy at any time on our website at http://www.ometron.com/#dataprotection.